Hello everyone, Gina partnered with
LUNA on an Equal Pay Day campaign
, which asks both men and women to fight against the gender pay gap. Playing off of Gina's passion for boxing,
the brand is debuting an equality video that follows Rodriguez
for a day of training in the ring.
Her strength, determination and resilience shine as an example to women everywhere to keep moving forward
in the journey for equality and pay parity.
"I am proud to partner with LUNA to raise awareness for the gender pay gap – a real issue far too many women face," said Gina. "If you are capable of doing a job, there is no reason why you should get paid any less than anyone else doing the exact same job. Together with LUNA, we're raising awareness for equal pay, and empowering women everywhere to never settle for the status quo."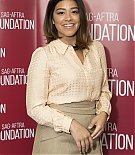 LUNA has
always believed in the power of women and a world where equal is equal
. This Equal Pay Day,
LUNA is proud to partner with LeanIn.Org to champion women and show why today
and every day, women deserve their 20 percent.
"Women on average are paid 20 percent less than men, and Black and Hispanic women are paid even less. This hurts women, families and our economy," said LeanIn.Org president Rachel Thomas. "We're proud to partner with LUNA, a vocal supporter of women's equality, to highlight the unfairness of the gender pay gap because we can't get to equality until women are paid fairly for their work."
Discover
the full interview of Gina where she answers many questions
about ELLE (
link
) and also discover a little more the history of 'Luna', of
'The American Association of University Women'
and 'LeanIn.Org' (
link
).