Hello everyone,
April 18th
CBS Television Studios invites Television Academy National Active members and a guest to an
evening with the cast of Jane The Virgin
. Gina as well as all these co-stars (including Brett) was present
Jane the Virgin FYC at the Wolf Theater in North Hollywood
. The series has previously earned two Emmy nominations for Outstanding Narrator (Anthony Mendez) ! It's
James Corden who animated the panel
and you can discover some revelations that have been said below.
+ HQ Pictures are available in the gallery.
Jane the Virgin's creator Jennie Snyder Urman revealed how the show will once again get serious and get involved with American politics. "We feel a responsibility to react to this presidency," Urman said, explaining that Jane Villanueva's son Mateo will wonder "why people don't want abuela in this country." Coll added that even beyond the immigration message was one of feminism and power. Her character, Alba, living in the United States allowed her to be freer as a person divorced from societal expectations because it "doesn't matter what people think about you as long as you pay your rent.". – "[It has] three Latina females as the head of the household," she said. "This is a show that not only depicts us, but the American scene. The American reality of the country that is composed of many, many immigrants."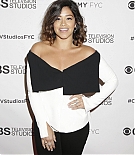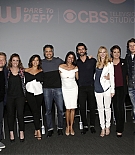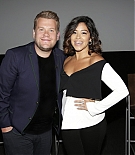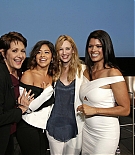 About Michael's death – And so he did and so it was heartbreaking, but the dramedy took some of that devastating edge off by flashing ahead three years. "I felt like it was an opportunity to really massively grow and to become this mother and to hunker down, and the routine she has now and the way she sees sex is different, the way she views relationships and love and destiny and fate," Rodriguez said of exploring her character, now a widow and single mother, following that leap. "She's become.. a little cynical. It's interesting to take this blossoming character that was so full of life, to actually now start having what we can all relate to, what becomes our traumas that start to shape us. Jane was my big first character to live with for this long, but how often do we get to see a show [where] we actually get to see somebody then affected by their traumas and who they become after that?"