Hello everyone,
April 21th
, Gina went
on the set of The Ellen DeGeneres Show
to promote 'Jane The Virgin' which I reminded her is
renewed for a season 4
. She enjoyed her passage to express her
boyfriend for several months, Joe LoCicero
as well as The trip
to Thailand that they made at the end of the year
and her passion for boxing, a hereditary gene 'cause her father is a great boxer too.
+ HQ photos are available in the gallery.
Gina opened up about her passion for Muay Thai boxing and her hopes to book an amateur fight soon. "I love Muay Thai. I love fighting. I've been boxing since I've been 3," she told DeGeneres. "I wanted to learn something new so I went [to Thailand]." The host then asked if we will be seeing Rodriguez in an upcoming fight. "I kind of want to … I want to do an amateur fight," she explained. "I want to fight. I want to see what it's like." – "I'll tell you what it's like, you're going to get kicked in the face," Ellen joked. "Or if I'm good, I won't," Rodriguez responded.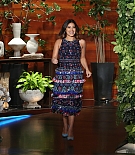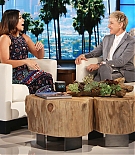 About her boyfriend Joe LoCicero – "I have a boyfriend, whose awesome," Gina said. "Whose like the coolest guy I've ever met… He's very Italian." Gina also opened up about a recent trip to Thailand that she took with Joe and how she was bit by a monkey. She had to get eight rabies shots after the incident! "Well, that's the little guy that bit me," she says after DeGeneres shows a picture from their trip. "I had one peanut left. I pass the monkey the peanut and then I turn my back and it latches onto my back and I was, like, 'the monkey just bit me.'"